Teppanyaki cooking is popular due to its simplicity and speed. Additionally, it incorporates the cook as an integral part of the dining process, rather than relegating them to the kitchen or grill.
Our Japanese-Style Teppanyaki Grill Hotplate is a versatile addition to any kitchen, and can be used for breakfast, lunch and dinner!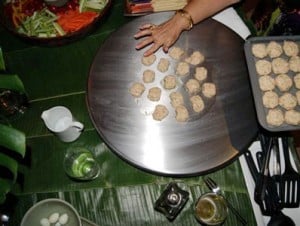 Shallow Dip Technology creates a shallow cooking area for marinades and juices by subtly lowering the centre of the surface whilst the grill is on. It also features a state-of-the-art electric heating element that takes less than three minutes to heat up whilst being safe for both indoor and outdoor use.
All of our products are backed by a five year manufacturers warranty (12 months for electronical components) in addition to our Australia wide usage and installation support.
Imagine what you can do! Reinvent cooking and entertaining with our Japanese-Style Teppanyaki Grill. What are you waiting for? Contact us, today!
Click Here To Learn More About Teppanyaki Cooking