Take the Party Anywhere with our Portable Teppanyaki Grills
Not every teppanyaki chef wants to be confined to the kitchen. For some, our built-in grills just won't suffice. What if you want to cook outside? What if you want to take your teppanyaki grill to a friend's house for a dinner party?
Well with our portable teppanyaki grill range this all becomes possible! Take the teppanyaki party anywhere you want. The portable range is all-electric, so the only thing you need is a power source. You could even take them camping!
A Cook-N-Dine Portable Teppanyaki Plus solves any dinner party problems that arise from wind and weather. Simply take it undercover or move to a different room completely!
Due to the warming area of the grills being smaller, you can use the outer edges as a regular table. All you need when cooking is your portable teppanyaki grill and your ingredients! Explore the possibilities and versatilities. Cook on your Patio, Dining Table, Terrace, Balcony, Motor Home, Yacht or even your bedroom!
Get creative wherever you choose to cook. The possibilities are endless! Our portable teppanyaki grills are more energy-efficient than regular cooktops and the grills are strong and made to last.
The centre of the cooktop dips in when heated to make cooking easier. However, outer areas of the plate stay warm while the centre gets hot so your food can stay warm too while it's waiting to be served. The edges of the grills will always stay cold to the touch and can be used for serving or holding uncooked ingredients.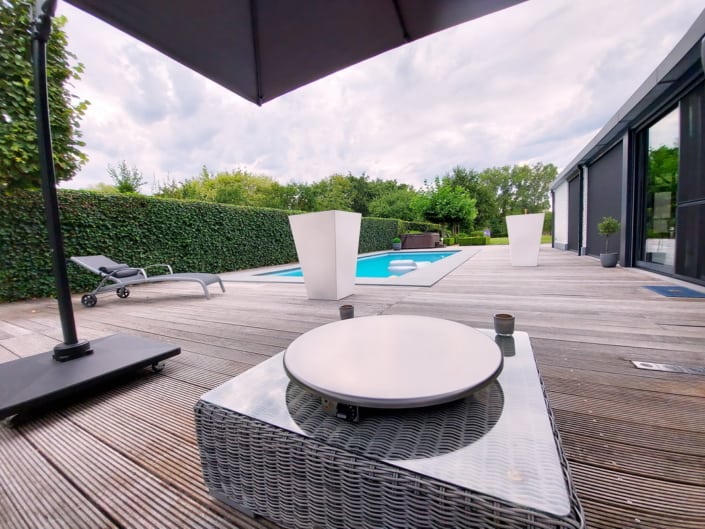 Heat transference works very well with no heat lost from grill surface to food. The portable teppanyaki grills can be used indoors or outdoors. Cleaning time is also very fast and convenient. Simply heat up some water on the surface, use non-stick tools and cleaning is a breeze. The grill surface stays cleaner than regular stove tops because stainless steel does not allow bacteria to breed very well.