The key to teppanyaki cooking is that is is quick and simple and incorporates the cook as an integral part of the dining process, rather than relegating him or her to the kitchen or the grill.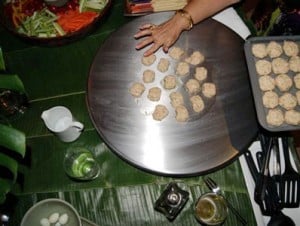 The Cook-N-Dine teppanyaki grill hotplate, or teppan, is a piece of equipment that can be used to cook a of other dishes as well, like breakfast, vegetables and dessert, or e.g. Okonomiyaki, a savory pancake, sometimes even called Japanese Pizza.
In Japan it is usual for food to be served in a series of smaller, separate portions, sometimes not much more than a mouthful that can be savored to the fullest.
The most common side dishes are steamed or fried rice, salads, condiments and miso soup.
Imagine what you can do! Re-invent cooking and entertaining with Cook-N-Dine Teppan Grills.