Imagine yourself as the centre of attention cooking an array of stunning dishes under the admiring gaze of your guests! Take their (and your!) taste buds on a trip to new heights of flavour and enjoyment! Its a whole new world of entertaining, full of flavour, full of fun with Cook N Dine as the centre of the conversation.
It is Cooking Reimagined!
Ultradine Teppanyaki Plus Cooktops
More Intense Flavours
Tastier & Juicier
Designed, Engineered & Manufactured in Germany
Easy to Clean
Wide Selection of Options to Complement both Indoor & Outdoor Lifestyles
It's so much more than just a teppanyaki plate!
How would you feel about a teppanyaki cooktop that does all this – steaming, roasting, baking and toasting – and more?
Ever seen a teppanyaki cooktop that:
Steams fish?
Cooks Risotto
What about steak? Filet Mignon?
Lobster tails?
Lamb meatballs?
Prawns?
Chicken Saltimbocca?
Ribs?
Grilled Squid?
Chicken Fajitas?
Pork tenderloin?
Spaghetti marinara?
Fried Rice?
Pork stir fry?
Desserts?
Breakfast? – French Toast?
Eggs Benedict?
And so the list goes on….!
That's why we call it the Ultradine Teppanyaki Plus…
The secret is in the Unique Shallow Dip, when the area in the centre of the cooktop actually dips down when heated and cooks all of your food in their own juices!
Couple this technology with its sleek, elegant design and you have a whole new experience at your fingertips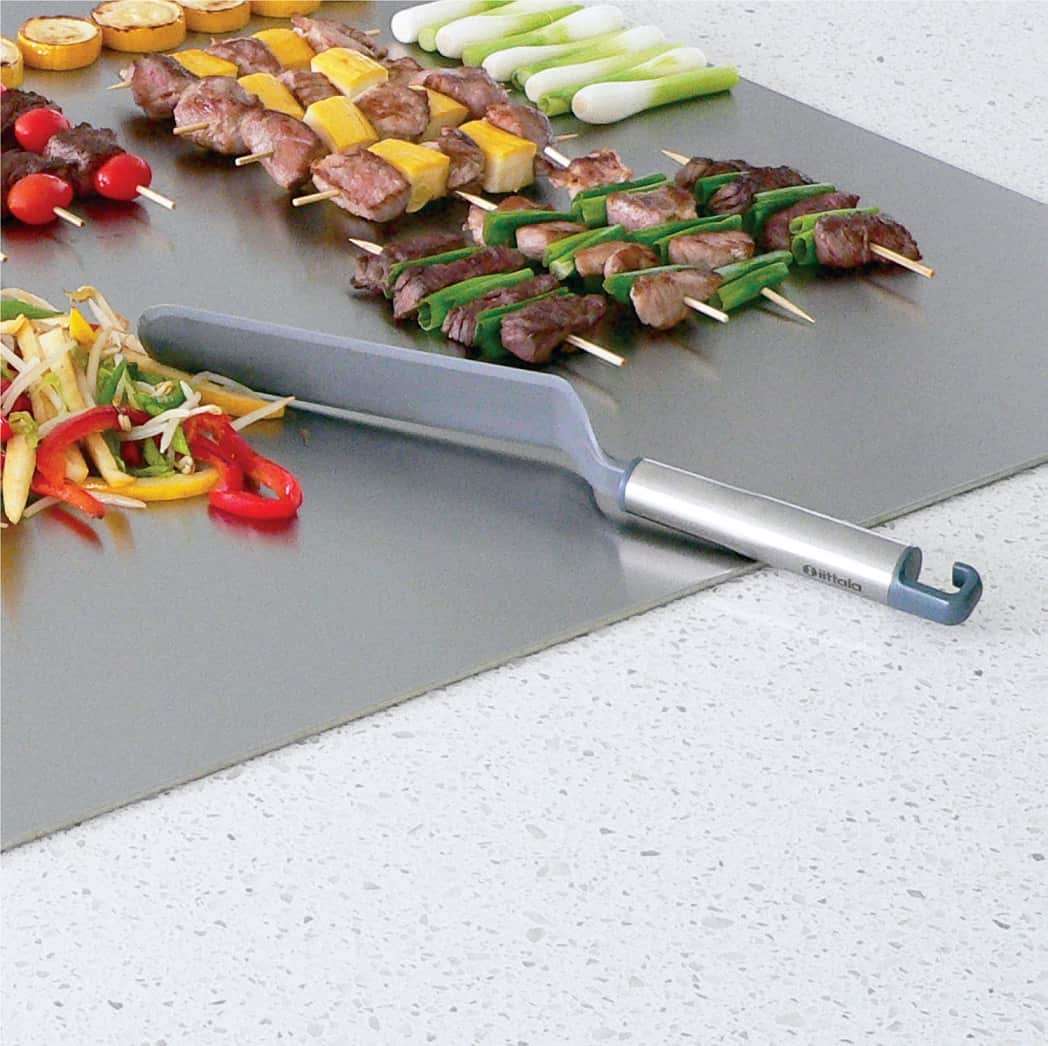 Made in Germany – Your Guarantee of Quality
Cook-N-Dine Teppanyaki Grills, Tables & Cooktops feature German design of stunning elegance and timeless simplicity. All the Cook N Dine teppanyaki grills are 100% manufactured in Germany to the highest standards and uncompromising quality. We have a wide selection of products to complement any modern kitchen or alfresco area.
Cook N Dine Australasia are based in NSW and have been providing premium grills, tables & cooktops to the Australian Market over 16 years. All of our products include Australia wide usage and installation support.
In addition to our industry leading customer support, all of our products come with a five year manufacturers warranty with 12 months on all electrical components.
Explore the world of Cook N Dine.
The original circular table made from top-quality stainless steel was the original realization of a brilliant basic idea, brought magnificently to life by German engineering expertise, and is now available in many different forms and designs. Cook N Dine presents cooking, frying and grilling with globally unique cooking tables, cooktops and teppanyaki-style grills. No more pots and pans! With Cook N Dine cooking is done directly on the stainless-steel tabletop or teppanyaki-style grill!  Our range of cooking tables and built-in Cook N Dine teppanyaki-style cooktops with heated stainless steel centres for direct cooking, frying, and grilling. Say goodbye to pots and pans!
Our Cook N Dine cooking tables and built-in teppanyaki cooktops are very different. Forget everything you already know about conventional heating elements! All Cook N Dine products are made in Germany, based on technology with decades of proven reliability. The cooktops feature globally unique "Shallow Dip" technology, where the cooking area at the centre of the table or cooktop temporarily dips down when heated, preserving the food juices and allowing dishes to be served complete with sauces! Once cool, the stainless steel surface is completely flat again. This unique feature is common to all Cook N Dine products from tables to teppanyaki cooktops. It showcases German technology of the highest quality, based on many years of thoroughly proven technological and functional performance. Shallow Dip technology inspires a very special art of cooking in which preparation of light, tasty dishes is always an experience for all the senses. An art of cooking in tune with today's demands for truly healthy cuisine that combines ease of preparation with sophisticated flavours––inspiring joy in creative cooking every day, free from the clutter of pots and pans.
Cooking with Cook N Dine brings daily pleasure in cooking, frying and grilling at this brilliant, technically innovative and virtually indestructible "open hearth for the third millennium". Indulge in this pleasure every single day – whether you own a free-standing cooking table, portable teppanyaki grill or have a built-in teppanyaki-style cooktop in your kitchen.
Invented in Germany. Designed in Germany. Made in Germany to German production standards.
Cooking should never be stressful. Food must never be mere fuel. Cooking should be a simple and sensuous act, and food should do more than merely satisfy hunger. Cooking and eating should be enjoyable activities that stimulate all the senses, that inspire pure love of life, that are easy, straightforward and healthy.
Explore the fascinating world of Cook N Dine!
What makes Cook N Dine such a unique experience for our customers?
Cook N Dine cooking with a cooking table or teppanyaki-style cooktop brings people together around the table as a sociable, pleasurable occasion that fosters communication. Cooking, eating, and communication are reunited! Throughout the past millennia, a common meal around the hearth has always been the social centre of life, consolidating stability and security in families and communities. Picturing this, we describe Cook N Dine products as the "open hearth for the third millennium."
Cooking without pots and pans, in a pleasant and sociable atmosphere; cooking directly at and on the table, thanks to the globally unique Cook N Dine stainless-steel cooktop.
Shallow Dip technology – in which the centre of the stainless steel cooking area becomes concave when heated – is a unique product of German engineering expertise with proven reliability over decades, which inspires new, creative cooking day after day.
Food cooks rapidly and healthily, and the table's centre cooktop is cleaned in an instant.
Cook N Dine cooking captures all the enjoyment of cooking as a social pleasure – free from the clatter and clutter of pots and pans.
Cook N Dine cooking is perfectly attuned to modern lifestyles and our desire for fast, simple cooking that fulfils today's ideas of healthy dining with fresh, flash-fried dishes.
Cook N Dine is 100 percent Made in Germany, from the original creative idea and the engineering expertise to the manufacture of these brilliant cooktops with Shallow Dip technology.
Cook N Dine products feature German design of stunning elegance and timeless simplicity.
In our modern age, we all long to find some sort of meaningful unity in the midst of overwhelming diversity. Cook N Dine products transform cooking and eating into an experience once again –as a sociable daily experience, a congenial gathering around the  table.
You can view our range online or contact us for more information about our products.