Show Off Your Cooking Skills With Our Multipurpose BBQ Teppanyaki Plates!
Here at Cook n Dine, we love helping people find the right teppanyaki BBQ combination to fulfil their passion for great food! When you grill with an Ultradine Teppanyaki Plus you can choose to be the chef, cooking mouth-watering dishes surrounded by family and friends or you can let your guests do their own cooking! Either way, there's no more slaving in the kitchen in isolation, away from all the company.
We have a wide selection of products to complement any modern kitchen or alfresco area. You can purchase a fixed built-in grill, a portable one or an outdoor table unit. Cook n Dine has every kind of dinner party covered!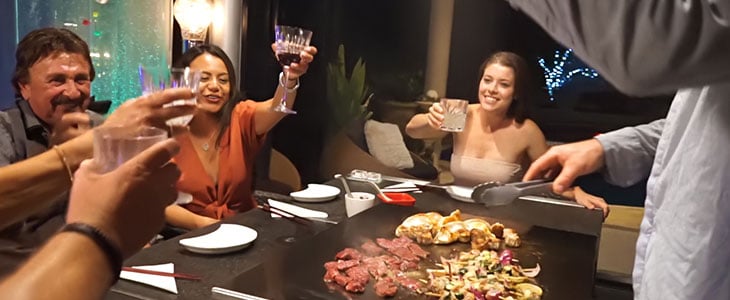 If you're…
• Looking to upgrade your BBQ area?
• Building a new outdoor entertaining/alfresco area?
• Building a new house?
• Renovating your kitchen?
• Interested in healthy cooking?
…then look no further!
One of the best parts about our teppanyaki BBQs for sale is that it is quick and simple, but most importantly, it incorporates the cook as an integral part of the dining process, rather than relegating him or her to the kitchen. It also gives the cook an opportunity to show off their skills and knowledge. Now you can the grand performance of a teppanyaki BBQ restaurant in the comfort of your own home!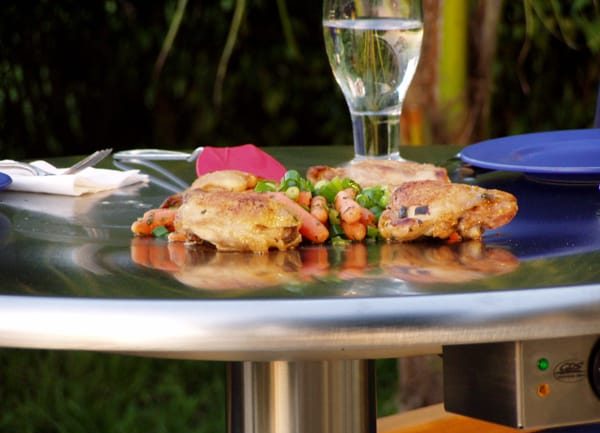 An essential feature of teppanyaki cooking is the entertaining way the food is prepared and served to eager dinner guests. It is relaxing yet visually stimulating. Seeing the fresh ingredients and watching someone skilfully (or maybe not so skilfully – no judgements here) cooking up the meal you are about to eat is a one-of-a-kind experience. Smelling the delicious aromas of your food cooking right in front of you is a sure-fire way of making any meal even more satisfying.
The Ultradine Teppanyaki Plus Cooktops are very versatile pieces of equipment that can be used to cook a wide variety of dishes, like breakfast dishes, vegetables, or even desserts. In traditional teppanyaki cooking in Japan, it is usual for food to be served in a series of small, separate portions, sometimes not much more than a mouthful so that it can be savoured to the fullest. The most common side dishes are steamed or fried rice, salads, and miso soup.
Most of the preparation of a teppanyaki meal is done beforehand, and the cooking begins when all the company is seated around the table. The diners are involved in the cooking and serving process and their interaction makes for a lively and enjoyable experience. Many believe that it is the most fun to eat straight from the grill. The Ultradine Plus makes this even more convenient with the outer ring of the plate that stays cool to the touch.
You can download our Product Guide or contact us for more information about our products.